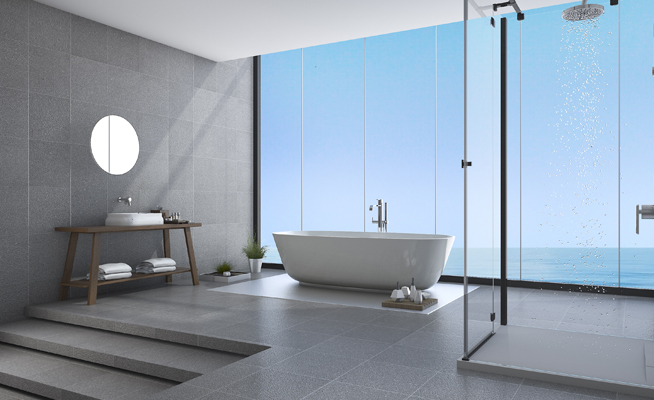 Performance consistency in harsh environments combined with ease of cleaning, are essential properties for certain glass applications. Sea-going vessels, aquariums, car washes, showers and kitchens all require a product that, as well as being easy to clean, will not degrade over time – defying humidity, corrosive materials and limescale deposits.
Pilkington OptiShower™ is a durable, on-line coated clear float glass designed to prevent surface corrosion when exposed to water, moisture and humid environments.
Pilkington OptiShower™ can be further treated for additional functionality by shower cubicle/enclosure manufacturers to help make the water slide off the glass faster making it easier to clean and giving better protection. By preventing oxidation of the glass, Pilkington OptiShower™ allows these subsequent treatments to adhere better to the glass and increase their durability.
If the subsequent water repellent treatments deteriorate over time, Pilkington OptiShower™ still guarantees its performance to prevent the glass from corrosion.
The ideal glass for transparent and clean showers over time
Pilkington OptiShower™ is the ideal glass solution for use in humid environments
It offers a modern and easy-to-clean shower solution. For standard glass cleaning, we recommend using a soft cloth, water and a neutral detergent. Avoid aggressive products that could damage the coating thus compromising the glass transparency.
The product is also available in extra clear version Pilkington OptiShower™ OW (coating on low-iron extra clear Pilkington Optiwhite™ substrate).
Comparative analysis

Ageing tests carried out at high temperatures and high humidity prove that Pilkington OptiShower™ glass outperforms untreated glass in limiting corrosion and limescale deposits. The advanced technology in the manufacturing process enables a combination of transparency with excellent anti-corrosive characteristics, thereby eliminating the problem of limescale deposits on the surface of the glass.